Varitron provides Hungarian financial institutions with a solution that is currently the only one of its kind. It is a VAR – Value at Risk – based risk management system that applies industry standard methods adapted to the unique characteristics of the Hungarian capital and money markets.
Varitrons answers the following questions:
How much is the VAR that is the biggest possible loss the firm can face in a given period of time on a specific portfolio (position)?

Does the firm meet capital adequacy requirements?

Do the traders and their managers remain within the limits?

What are the deals required to lower the risk under the targeted limits?

What is the contribution of an asset or asset group to the total risk?
Risk management as a business: 
Several firms choose to ban proprietary trading as executives think that they do not have adequate systems in place to monitor risks taken by their traders.
With the help of Varitron, financial institutions can measure their risks, so that newly allowed and limited proprietary trading activities result in direct profits for them.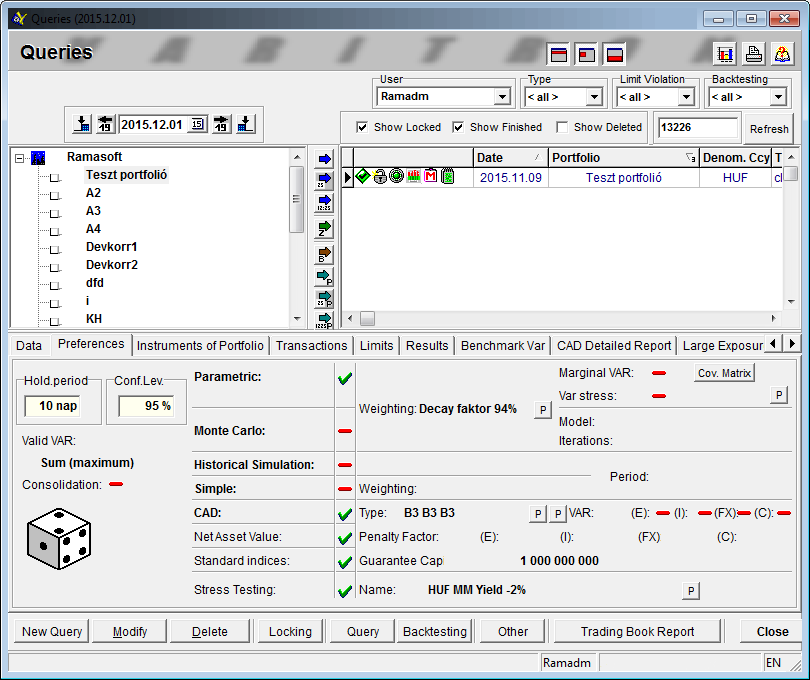 On the other hand, Varitron is also a must for active risk management departments: it makes daily routine tasks faster and more reliable, freeing up time of risk managers to concentrate on more complex tasks.
Analysis
Every model that measures risk has assumptions about the movements of the prices of financial products (Parametric VAR, for example, assumes that the daily returns are normally distributed). These assumptions can be analysed graphically and analytically as well.
Yield curve and covariance matrix estimation
Most risk management systems get the variance-covariance matrices from an outside source (e.g. Riskmetrics). These sets usually do not or only partially take into account the Hungarian data necessary for the calculations.
Accordingly, the functionality of the software had to be developed to estimate the Hungarian government bond yield curve (taking into consideration the special characteristics of the Hungarian government bond market) and to estimate the variance-covariance matrices based on this data.
Reports
Risk management is only effective if business processes are changed after the implementation of a risk management system. After setting the right limits, the second most important thing is to change the reporting flow. Daily risk reporting must be set up for trade managers as well as for top management.
Integration with existing systems 
Varitron communicates with existing back or front office systems via interfaces. It is fully integrated with the Inforex front office system - meaning that risk measurement can be performed before the entry of trade tickets.
Products
Treasury bills

Fixed and floating rate corporate and government bonds

Repo agreements

Currencies

Hungarian and international equities

Exchange traded futures and options (FX, interest rate, equity)

OTC forwards and options

Warrants and underwriting